EFA Kongress 09.06.2022 zur EM in Kaltern/IT
09.06.2022 – 09.06.2022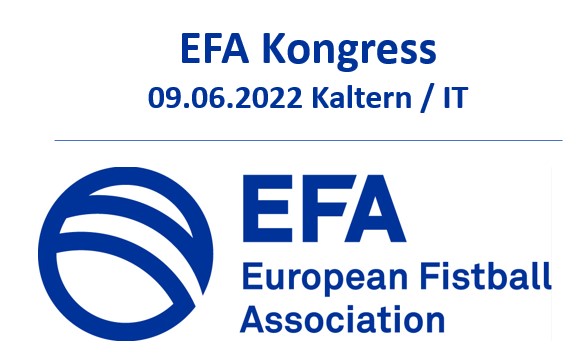 Dear member associations, dear members of the board,
enclosed you find the invitation to the 2nd ordinary EFA-Congress of the European Fistball Association June 9, 2022 in Kaltern/ITA in the framework of the EFA 2022 Men's
European Championship.
Best regards – and stay healthy !
Ulrich Meiners
EFA Invitation 2nd ordinary Congress 09-06-2022 10.3.2022a
Sehr geehrte Mitgliedsverbände,
sehr geehrte Mitglieder des Präsidiums,
anbei finden Sie die Einladung zum 2. ordentlichen EFA-Kongress der European Fistball Association am 9. Juni 2022 in Kaltern/ITA im Rahmen der Männer Europameisterschaft.
Herzliche Grüsse – und bleibt gesund !
Ulrich Meiners
EFA Einladung 2. ordentlichen Kongress 09-06-2022 10.3.2022a